Ed's solo travel days in Costa Rica
Sunday, Jan 23, 2005
I walk the 1.5 km from the San Miguel research station to Mal Pais with the other 19 members of our Tropical Ecology class group. While they load the van I check my map in the Lonely Planet Costa Rica guidebook for the road to Cabuya. I say goodbye to the group and start asking around about the road, complicated by my limited Spanish and that I can't remember how to pronounce Cabuya (Ka-BOO-ya, I think). But I get confirmation it's on the right soon, it's 300 m from where I left the group, it's well-marked and I turn to start the 7km hike across the peninsula. Near the junction there are some nice little cafe places with drinks and all-outdoor covered seating, it seems like a nice fishing/surfing/tourist town, quite small. In the first half km after the junction there, a couple vehicles come past from the other direction, then I don't see any for an hour. There's a dry creek on the right behind some trees, it's quiet and seems not much different from being in the (Cabo Blanco) preserve. Probably the terrain has been to steep even for grazing. There's a snake road-kill. There are howler monkeys on the slope behind the creek, when the road crosses the creek I walk back along it to look for them, and they are so close I think I know what he's howling from, but it's thick with leaves. He stops howling, I look at a wasp nest that's fallen to the ground. I walk back to the road, and the howling restarts so I take another look, but it stops when I get close. I see the "Star Mountain Eco-resort" on the right. The next couple of km the road gets more exposed to sun and goes uphill, I get quite warm and look forward to the top and hopefully a breeze.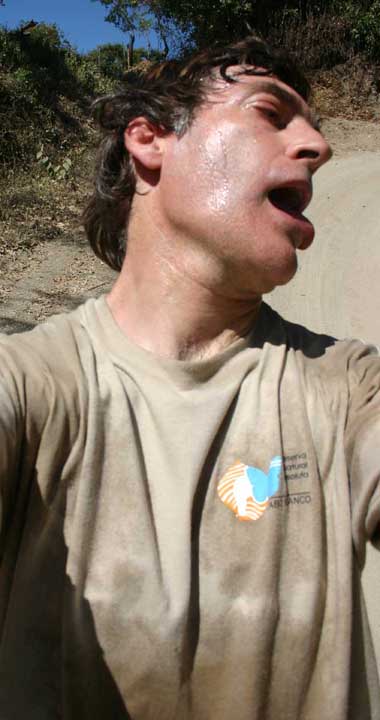 Ed sweating like a racehorse at the high point of the Mal Pais - Cabuya road on the Nicoya Peninsula.
-------------------------------------------------------------------
There is indeed a top (about 180 meters elevation), I can see the water on both sides (Pacific Ocean to W, Gulf of Nicola to E), and there is some shade and a nice breeze, so I stop and cool down but save my water. The road down seems easy now, but when a truck comes by and I'm offered a ride to Cabuya I take it. The sen~or is from near San Jose but staying with his wife and daughter in Cabuya for the weekend (they are in the backseat in swimsuits). We stop at his hotel in Cabuya and ask about mine -- the Celaje, which Diana Liebermann had arranged to reserve for me. It's just 300m down the road. As I walk there the first 2 vehicles to pass offer me rides. When I get there the Belgian proprietors, who'd heard I was walking, are surprised I'm this early (somewhat before noon). I'm shown my cabina, clean, with more furnishings (hammock, chair and table) on the outside than the inside. It's beachfront property (I guess everything on the W side of the road is), so I explore the beach. Soon I see a place that rents bikes. After finding out my hotel is out of bikes, I go back and get one. First I talk with the charming girl, about 12 years old, whose English is very good and spoken with care. Her mother is walking back on the beach after getting a slice of a huge fish someone just caught; she is English. She says howler monkeys sleep in the mango tree right next to where we are standing, and that they like the fruit which is coming in now. I rent the bike from the Dad, who is Costa Rica native but a pretty good English speaker himself. He adjusts the bike, asks $20 for 2 days. He doesn't ask for a deposit, check ID, or even ask my name. I ride 7km to Montezuma to see the place, get food, travel info and internet access.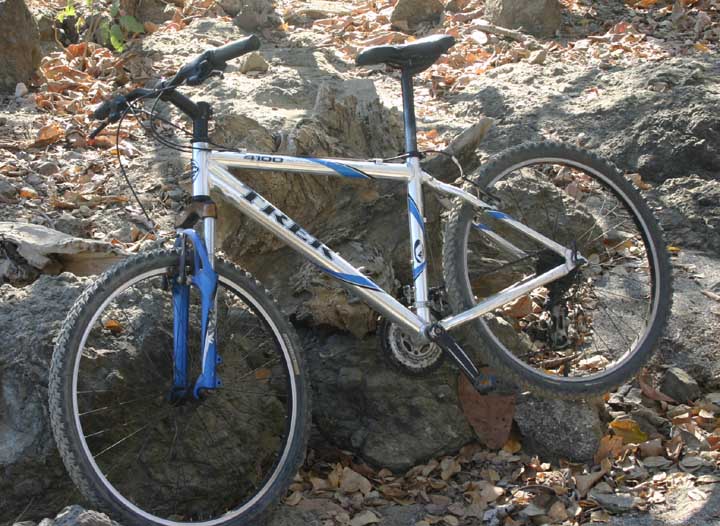 My rented bike is a Trek 4100 mountain bike, perfect for the roads here.
-------------------------------------------------------------------
I pass pastures and trees and several places where I hear howler monkeys on the left, a couple creeks with nice swimming holes and coves and beaches on the right (gulf) side.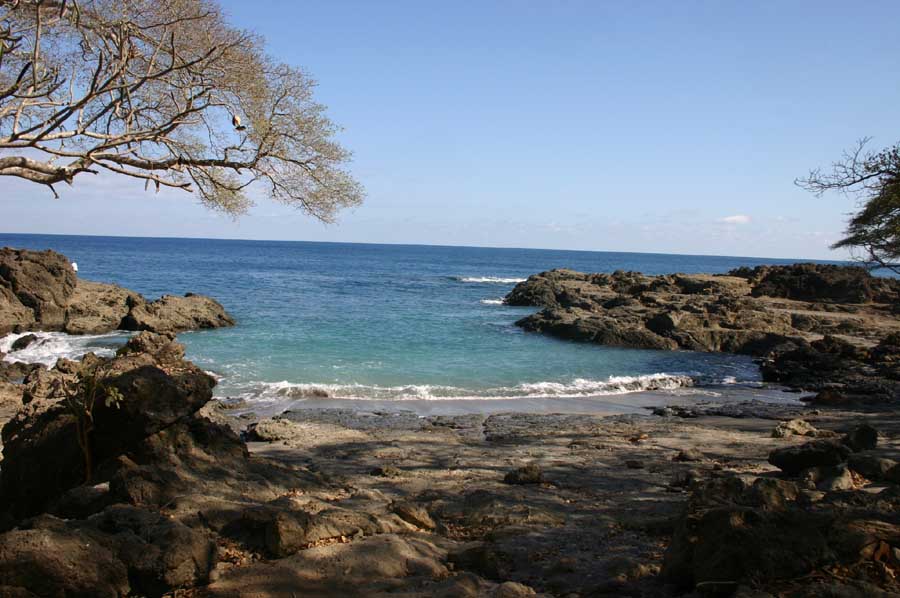 One of many nice coves on the way to Montezuma.
-------------------------------------------------------------------
When I get to Montezuma I'm surprised by the quantity of tourists (and of pretty girls in swimsuits especially). I feel uneasy about the place. Around Cabuya everyone is friendly and says "Hola", here people mostly divert eyes. I feel it's a likely thievery spot and though I have a bikelock cable, it is thin and I don't feel I can leave the bike out of my sight, and I can't go swimming because I have my camera and wallet with me. I bring the bike in "Pizzanet" with me when I have a big pizza and get on the 'net for the first time in over a week. There's only one ATM in town, they charge a 5% fee, but I get 50000 colones. I shop from the many street vendors of handmade items (earrings, necklaces etc). Get a little info on the Tamboor airstrip flights and Isla Tortuga trips, and bike back to my cabina in the dark, which isn't so hard with the nearly full moon and occasional streetlights.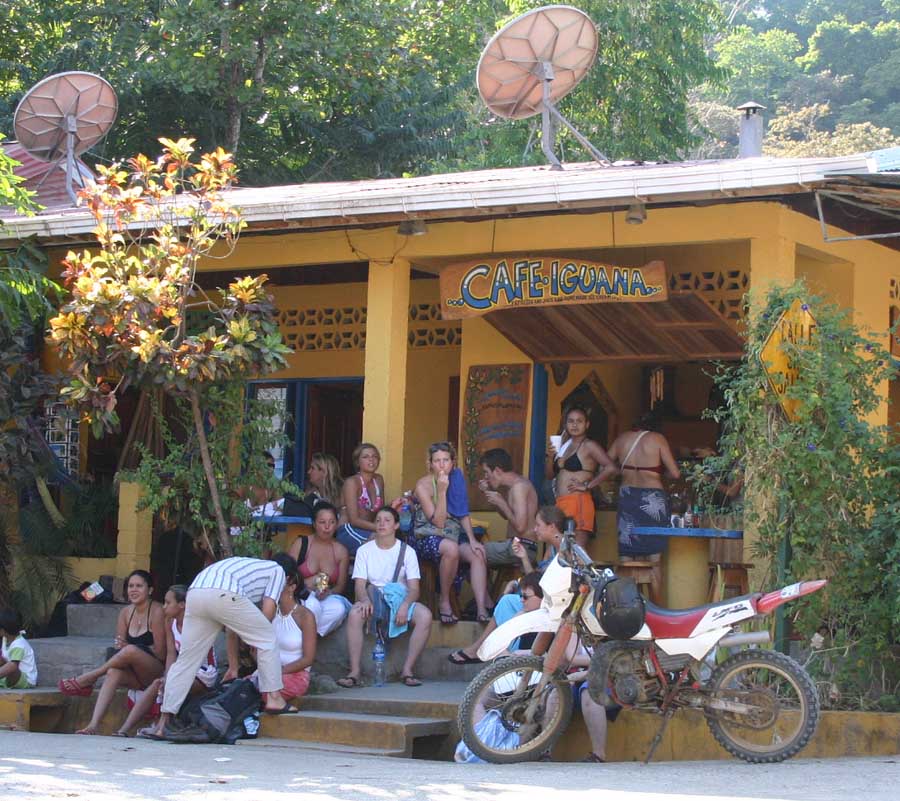 Typical of the Montezuma tourists.
-------------------------------------------------------------------

Monday, Jan 24, 2005
Breakfast comes with my hotel room. It is a pleasant place to eat, by the pool, outside naturally under a thatched roof. A magpie jay waits for handouts, the dog Toshie does too, politely. Go into center of town of Cabuya, buy snacks at the little market, some language barrier here, no expectation of speaking English from the people here. I bike 2km over to the Cabo Blanco preserve, to the administration center to talk with Lara the park official. They have a building rather like the San Miguel research facility, but with more private rooms. There are many young volunteers around. Some stay in tents in the yard. Diana Liebermann had arranged with Lara to allow me in the park today, when it is generally closed to the public. Lara goes over the map and some things with me, gives me a note to show any guard I may see, and tells me to check in when I get back. Basically I walk the 4.2 km(one-way) to the beach and back, taking the "Swedish" and "Danish" forks. The only mammal I see is a large deer. There are lots of butterflies. I hear the howlers all over but don't see 'em. At the beach I spend a couple hours watching the fishing Pelicans. I enter the water carefully for a swim, it seems quite safe. The pelicans dive quite near me -- too bad I can't really bring the camera in the ocean. I hope the pelicans can tell my head from a fish; both my skull and their beak would suffer if they can't. But they are more willing to get close to me than they were when I was on the beach.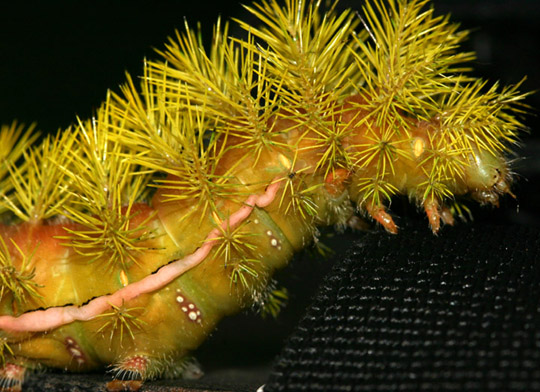 Spikey, toxic caterpillar's search for happiness takes him across my camera bag.
-------------------------------------------------------------------
When I'm about to head out I see a really interesting large (8 cm long) caterpillar with yellow spikes and I spend a while photographing him. He was on top of a picnic table and whenever he got to an edge he did some exploring then turned around. Did someone put him up here or did he fall. This is a real predicament for him. I let him onto my camera back, have up walk on sticks, and let him crawl off the bag after I put it on the beach. I head out, back the 4.2 km to the road area. I realize at 4:44PM I still have about 3km to go so I speed things up. I see Howler monkeys just as I get back to civilization, behind the Cabo Blanco Park info center. Too dark for decent photos. Am surprised Capuchins are mixed in with the Howlers. I check in with Lara, she shows me their 1-box display of insects and I take photos, and she shows me some books in their library. I see a few volunteers around, some have been living in tents here. Some are doing some pre-construction work (like moving rocks) on an annex. Monkeys and other mammals are common in this administration area apparently, esp in morning, and now when trees are fruiting, so I decide to come back tomorrow morning. Around the crossroads in Cabuya (town center, where the pay phone is and people congregate at the market) a teenage boy comes up and tells me my straw hat is really good, at first I think he's sarcastic but then I figure he is sincere. The culture is different enough for my that I can't read people my normal way. I have dinner at the Celaje, a nice setting and good value.
Tuesday, Jan 25, 2005
I ride the bike at 6:00AM back to the Cabo Blanco administration area; there are many howler monkeys along a road off to the left just before the administration area; there are many fruit trees along the road. I watch and photograph the howlers for 2 hours. Return the bike, have breakfast, swim in the pool and depart Celaje in Cabuya at 11AM, walking the 7km to Montezuma, but really thinking I'd take a ride soon. But there is very little traffic and once I'm halfway I cut down to the beach and combine that with road into town. I liked the looks of the Amor del Mar hotel my last time through, but they are full; I quickly take a room at Cascada, pleased to rid the pack and let me walk unencumbered around the town and beach the rest of the afternoon. I swim in a couple spots, eat lunch and dinner in town. I went into "Adventures in Montezuma" travel office, since they had the Tambor/San Jose airplane scheduled posted and I could book it there. But I let myself get talked into a van deal, combined with a room near the international airport. I'd been having trouble getting through on phonecalls and it seemed convenient and cheaper to have this taken care of, but I soon regret not doing the air ride. I did not like the people in this office. They were deceptive in selling me the van ride, seemed unwilling to give any information that did not directly profit them, and seemed to enjoy my not knowing much about travel around there.
Wednesday, Jan 26, 2005
An early walk on the beach and in town, breakfast at the hotel. Van comes promptly at 8:30AM, takes us (with a few other pickups) to ferry to PuntArenas, transfer to other van. I continue to kick myself for not flying this. It's a bit confusing doing the transfers since I'm not clear on which one I should get on, where to wait, where to get our prepaid ferry ticket. Young English woman who's been around the country a while helps. Van gets to Los Vocanes hotel in Alejuela at 3PM (Adventures in Montezuma guy said it would be about 1PM, but I expect this time is typical). I am relieved things go smoothly at this hotel, we all get our keys quickly, it is a nice place, I get water, internet access, and some info on San Jose right away. On the van ride I had been disappointed I wouldn't have enough time to make San Jose worthwhile to go to, but now that I'm here and set I quickly get a taxi to the "Museo do Oro Precolumbino", aka "The Gold Museum," the one thing my father really thought I should do here. It is good, particularly anthropologically. I walk down the pedestrian mall about 5PM, go to big central market, eat dinner in there and look at gift items. On the way into town I'd seen a Circus being set up, I walk to that place, and to in the big tent for 5000 colones. I see magic, clown, trapeze, music acts, buut no animals. I leave before it's over about 8:50PM, thinking I should get back to hotel, take a taxi back, it was 6000 colones each way. I chat with Canadian couple in the very nice semi-outdoor eating area. To bed about 10:30. Some people pound on front door about 12:30, my room is right there in front, and I don t really sleep after this.
Thursday, Jan 27, 2005
A long day of travel, 15 hours from when the taxi gets me at 5:30AM in Alejuela till I have my bags at 6:30PM in San Francisco. While I wait in at Juan Satamaria Int'l Airport for my first flight, someone from Costa Rica tourist council gave me an extremely long (100+ questions, 12 pages) survey, which I fill out.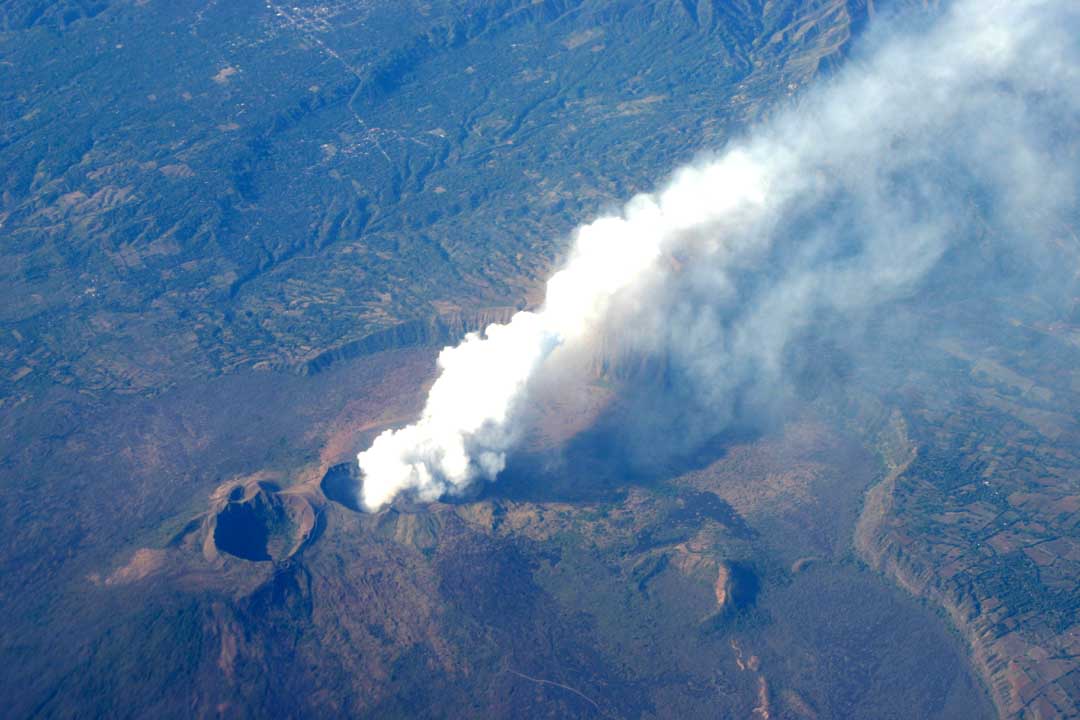 Steaming crater in Central America.
-------------------------------------------------------------------
Made a point of getting left side window seat, away from morning sun as we fly N, and the Central American scenery is better than I had expected: lakes, faults, volcanoes. 3 hour scheduled layover in Houston, and then plane 1 1/2 hrs late out due to radio trouble -- had to taxi back to gate after we were on runway. Last updated: Feb 3 2005
Copyright © 2005 Ed Oswalt